I found myself working at a high end prop fabrication in central New Jersey last year. My initial transition was easy, as being from Brooklyn, I have a lot of family up there, and was fortunate to be able to stay with a generous relative for a while until I found a place to stay.
Choosing a place was difficult. It had been 35 years since I lived in Brooklyn, and I wasn't really attuned to busy city life anymore. I knew I didn't want to edge towards Newark, and instead focused on areas that were further south. South Amboy is a cool little town, with the remarkable distinction of once having the world record for most bars and liquor stores per square mile. Freehold was nice and quiet, but a little too far of a drive for comfort. I stumbled upon the little fishing town of Keyport, and almost immediately felt at home. I had found a rare gem in the bustle of Northeastern city life.
The main attraction in Keyport is the Keyport Borough Waterfront Park and Promenade. From the
town's website
:
In January 2007, the NJDEP Bureau of Coastal Engineering broke ground on a project to transform the shore protection and public access of the Keyport Borough Waterfront through a partnership of State, County, and Local funding. The bulkhead replacement project included 1,450 linear feet of the American Legion Drive Bulkhead from the Municipal Boat Ramp to the recreation area known as Fireman's Park. The project, while providing vital protection of the Borough's coastal bay front, provides for greatly enhanced, recreational public access to this area. The municipal fishing pier which lies west of the center of the bulkhead project was also rehabilitated through partial funding from the NJ Green Acres Program.
I found this cool video on youtube:
Keyport also has a weekly Twilight Concert Series every Saturday night of May and June, sponsored by Espresso Joe's. It is held in the "Mini Park", which is a small paved and tiered plaza overlooking the Promenade. Local acts are booked for this outdoor event. Crowds might be as small as a couple of people, or as large as 40 or 50 or more.
When I was there, I met the folks from
Clan Suibhne
. "Sui (bh) ne". In gaelic, the "h" silences the consonant preceding it. Thus, the "b" and "h are silent for the gaelic spelling of Sweeney.
Here they are playing inside Espresso Joe's:
One of the great things about evening outdoor sidewalk concerts is that I got to chat with the guys after the event. John invited me to come play with them at
Johnny Mac's
in Asbury Park (another great town). I had a blast!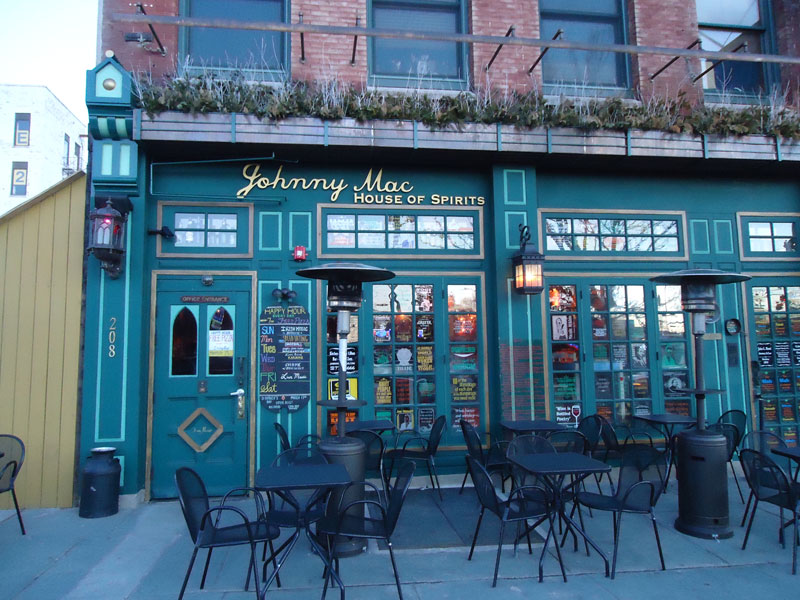 Johnny Mac House of Spirits is one of the most thoroughly decked out themed restaurants I've ever been to. And it was all done by the owner. I'm afraid I don't have any good pics of the inside.
Keyport has a lot of bars and restaurants down by the water. Joe Joe at The Uptown was a great host.
Here's a shout out to all the guys... Queen Ken, Johnny Tomato, Sean, Laundry Man, Lemon Head and the rest of the gang.
The Bulkhead was set to re-open this spring and has shows scheduled, so I'm thinking that it was a success!

Update: I hear the Bulkhead should be opening in a week or two.